Readers of this blog may recall an earlier post regarding the abuse of the free file hosting service – fileave.com by malware authors to host their malicious code. Given below is a list of the number of files our web crawler managed to download from this file host over the last 5 months: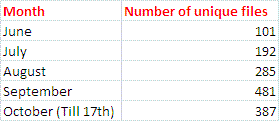 Fileave.com was probably well on its way to becoming the preferred free file hosting service for the malware authors. However, the site's ISP "Hurrican Electric, Inc." finally decided to shutdown this site and its associated ripway.com.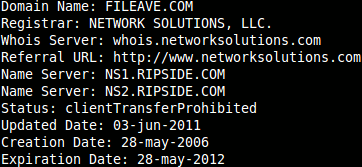 We can breath a temporary sigh of relief, for its only a matter of time before the malware authors find a new site to host their parasite.
Lokesh Kumar
K7 TCL
If you wish to subscribe to our blog, please add the URL provided below to your blog reader:
https://labs.k7computing.com/feed/