We at K7 Threat Control Lab recently encountered an incident reiterating the power of social engineering to trick smartphone users to install bad stuff.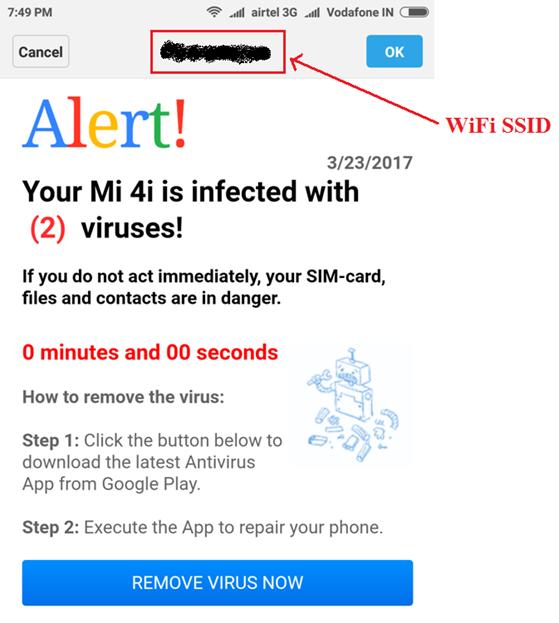 The picture above is self-explanatory. It is clearly a fake message, but it is more convincing since it displays the device make and the current WiFi SSID of the victim, and even uses Google colours and identifiers.
This scareware message attempts to coerce the user to "download the latest Antivirus App". It is likely from the message "0 minutes and 00 seconds" that upon clicking on the link "REMOVE VIRUS NOW" user will be redirected to download some dangerous app either from a third party market or even from Google Play Store. The download was never attempted but the app may well have been a deceptor which would claim to have discovered all manner of issues with the device, the fixing of which would require payment.
This fake message may well be generated from the Mi4i device itself (place of manufacture also plays a role in the device's integrity) or from the WiFi router to which the device was connected at the time.
These kinds of specially crafted user-specific messages exploit the user's fear factor to force them to download the app recommended in the message, thus compromising their devices themselves.
To avoid any such unwanted circumstances we recommend the smartphone users to:
Carefully analyse the messages or alerts which they receive before taking any action. Ignore irrelevant messages
Not install apps recommended by strangers
Use a top-rated mobile security product such as K7 Mobile Security to block any infection
Regularly update the mobile OS and security application installed to be free from mobile malware
K7 Threat Control Lab